With news of its takeover, Prêt is in the news. It's a company and an industry sector that we know quite a lot about.Nearly four years ago one of our founders assembled a list of every Prêt shop and every Greggs shop in Britain and made a heatmap. You can play with it now if you like, or look at the map below.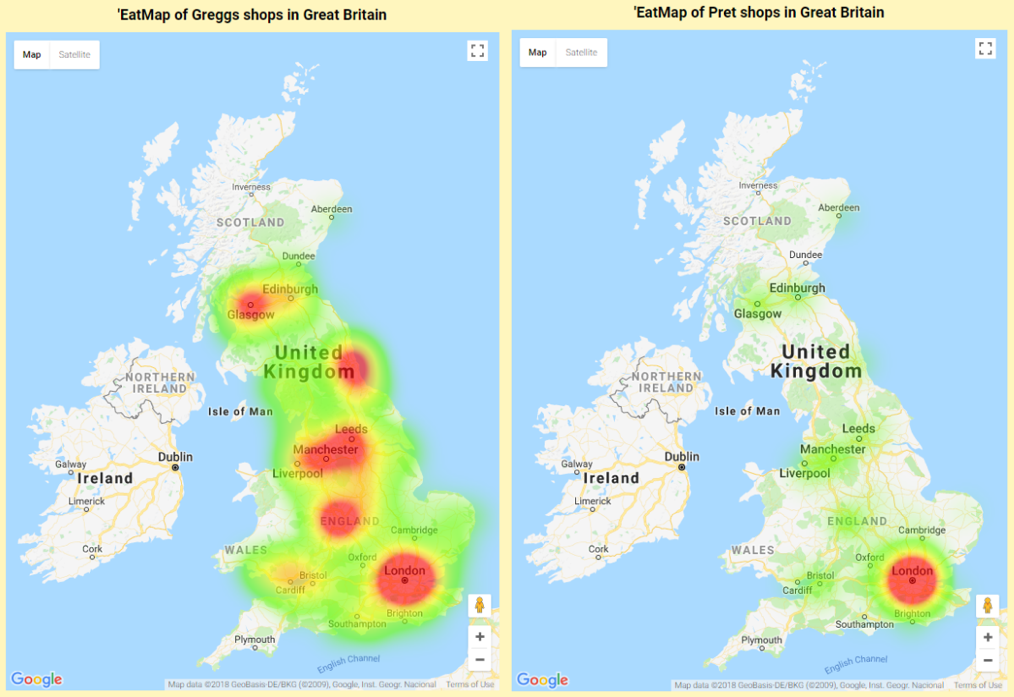 It's a bit of fun, but the data that powers it is very important.
Both Greggs and Prêt have expanded significantly since we collected a snapshot of the store location data in 2014, but the maps haven't changed. This is because updating the table that powers the map is a manual and time-consuming process.
There is a better way, and in other countries we're already using it.
Open companies data and Prêt
The UK government publishes an open companies database. Prêt are listed on it. But even though the chain has dozens of shops, there are only four listings, all at the same address in London.
The UK's open companies database tells us that Prêt exists as a company, but it doesn't tell us much about the company or where its shops are.
This is very different to what we can find out about Prêt in France.
The Sirène database is the French equivalent of the UK's open companies database. It tells us much more.
In Sirène we can see every Prêt shop in France. We know the date it opened. We know how many people work at each shop. And we know how many people are employed in the organisation as a whole.
This is fantastic definitive data that makes our job of understanding economies and innovation easier. We remain hopeful that we can get something just as good, or even better, in the UK soon.
But let's quickly go back to Greggs.
A bit more about Greggs
Within The Data City we do actually maintain a list of all the Greggs shop in the UK that we can find. This is important because Greggs, in partnership with Invisible Systems are one of the world's leaders in The Internet of Things.
From measuring fridge temperatures and tracking energy use, to ensuring that their supply chains are hygienic, Greggs are doing it using thousands of internet connected sensors. Their innovation is happening all over the UK and with partners like Walt Disney and Npower, operating all over the world.
You can read about that more about Greggs and IoT in the IoTUKNation 2018 update report, which is available now.