Members of the public sector should be very happy to hear that Innovate UK data can now be accessed through our Data Explorer!
What is Innovate UK funding?
Innovate UK, part of UK Research and Innovation, provide companies in the UK grants for innovative projects. Note that this grant does not take into account company size, and is on a project basis, hence why companies such as Rolls-Royce can be seen receiving grants. This data is particularly valuable to the public sector as it can be used to find which companies are publicly funded and they can explore the company in more detail in our platform.

A problem many people have come across before is not being able to download Innovate UK data. You actually can simply download the data here, although the ability to do so is rather hidden.
Implementation & Notable Features
We have taken this detailed spreadsheet and implemented it into our product. We originally thought that this would pose a problem, but it turned out to be extremely simple. Innovate UK have included company number within their spreadsheet, which means that we can simply match this to our database of companies with company numbers. The beauty of open data!
Within the data, the most notable data point is award offered. This tells you how much funding the company received, which would be the main reason most people view the data. There is also location data, which may be useful for local authorities (or similar) to be able to see where in the country the funding was given.
Example Companies
In this section, I will give two examples of companies that received funding. The first is Rolls-Royce, and the second is Silver Power Systems. I've chosen these as they represent two different ends of the funding scale.
Rolls-Royce
Rolls-Royce PLC is a child company of Rolls-Royce Holdings and is a manufacturing giant. Here's what their data looks like on the platform: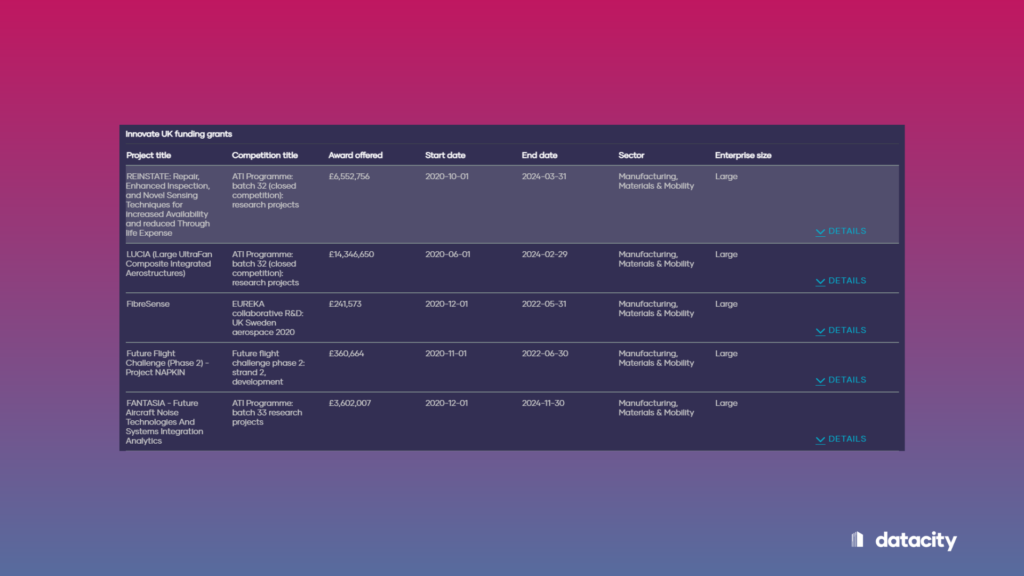 As you can see from the snippet above, Rolls-Royce PLC have a vast portfolio of Innovate UK funding grants, totalling over £650 million (not all of the funding grants are pictured). Our platform arranges these into a concise list, with further detail when expanded: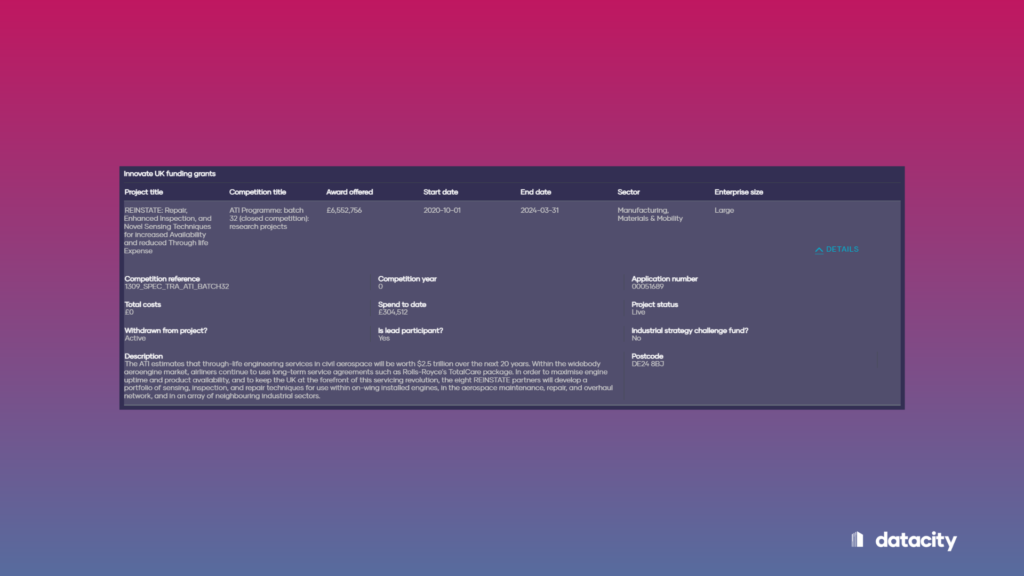 Silver Power Systems
Silver power systems are an electric vehicle battery data analytics and telematics company.
As you can see, we have the same details available for the smaller companies and grants. In this case, this is the only funding grant given and it is of relatively smaller size when compared to Rolls-Royce.
What you can do in Data Explorer
Browsing the Innovate UK funding data within Data Explorer is extremely convenient, and gives you access to some handy tools.
Filters
Set a minimum or maximum funding amount and sort the results from high to low. For example, you may only be interested in companies that have received over a certain amount. Or you might want to narrow the search down to a particular region to see which companies have received the most funding in said area.
Not only can you filter by any one of our Real Time Industrial Classifications (RTICs), you could also filter by SIC code, multiple locations, or by using the Innovation UK funding grants filter in tandem with other financial filters, such as turnover, employee count, or EBITDA.
You can see the data in the Analyse section of Data Explorer. This part of the platform showcases a wide range of aggregate data – this includes Innovate UK grant funding over time. This can be seen above for our recently updated CleanTech RTIC.
Not only this, but you can see a further in-depth view of other parts of your filtered view. For example, you may want to see companies that have raised over £1 million in funding grants in your local area – Analyse provides you with a breakdown of our RTIC and SIC data for this so you know which industries have been the most successful. You can also see employee data, cumulative growth of companies and much more.
Wrapping Up
We are very excited to be able to provide Innovate UK data to the users of our platform. We believe that this data is incredibly useful, and will provide users of our platform with a lot value (especially in combination with our comprehensive filters and analysis).
We've tried to make access of this data as convenient as possible and included only filters that we thought were relevant. But this is where we want your feedback! If you want more filters or sorting, such as date of last funding, then let us know! You can do so by simply getting in contact, or voice your opinion at our monthly open forum.