Earlier this month the Artificial Intelligence Council, an independent committee that provides advice to the UK Government, released a report summarising four pillars on which to build the UK's future in AI.
The AI Roadmap was published by the Office for Artificial Intelligence, which is part of the Department for Digital, Culture, Media & Sport and Department for Business, Energy & Industrial Strategy.
The Data City created the first real-time industrial classification of AI in October 2020, so we've been looking forward to reading the recommendations and seeing the government's strategic direction on AI.
Strategic importance
With estimates showing that AI could deliver a 10% increase in UK GDP in 2030. (PWC, 2017) and with the technology now embedded in many parts of our daily lives, the AI Council advocates a National AI Strategy. It says "If approached correctly, this would offer huge benefits to the economy, to recovery and resilience, the environment and for people from all walks of life across all parts of the UK."
The sector was also highlighted in Tech Nation's 2020 Report. It outlined that the UK is a global top performer for VC investment into Artificial Intelligence and deep tech companies, however, Israel is catching the UK to third place. UK AI raised £2.42bn in 2019, compared to £2.36bn in Israel, with Israel's total growing 21% from 2018 compared to 19% in the UK.
AI also dominates investment in emerging technologies as this chart from the Tech Nation 2020 Report shows.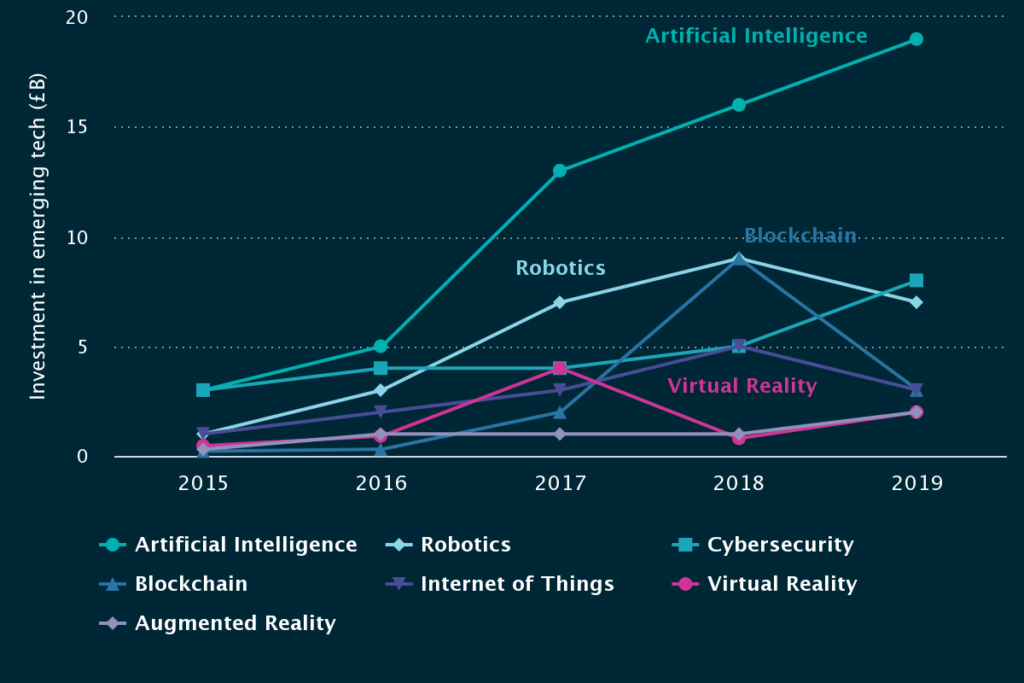 Consistent data fosters collaboration
As most analysts know, standard industrial classification (SIC) is broken, under-representing newer industries and over-representing ones that are declining in importance. SIC lags behind reality and is a blunt instrument to assess industry. This is a particular issue in emerging industries such as AI and Cyber which have such wide definitions and include lots of different types of businesses. You can read more on the flaws in SIC on our blog.
The three SIC codes that are most used by AI companies demonstrate this problem;
Information technology consultancy services (489 companies using this code)
Business and domestic software development (470 companies using this code)
Other information technology service activities (347 companies using this code)
Sensibly, the AI Council report recommends that "[the UK should] find new ways to bring researchers, disciplines and sectors together".
Accurate data, and an agreed taxonomy for the sector, is a vital part of that endeavour which is why we created the real time industrial classification (RTIC) for AI.
The Data City's AI RTIC
Our Artificial Intelligence RTIC reveals some interesting insights for national and local policy makers.
As you would expect, there are clusters of AI businesses in major cities across the UK. This can be seen in the map below. The Tech Nation 2020 report found that Manchester, London, Bristol, Oxford and Cambridge are among Europe's top 20 cities for tech investment. Manchester is Europe's fastest-growing major tech cluster, with investment growing from £48m in 2018 to £181m in 2019.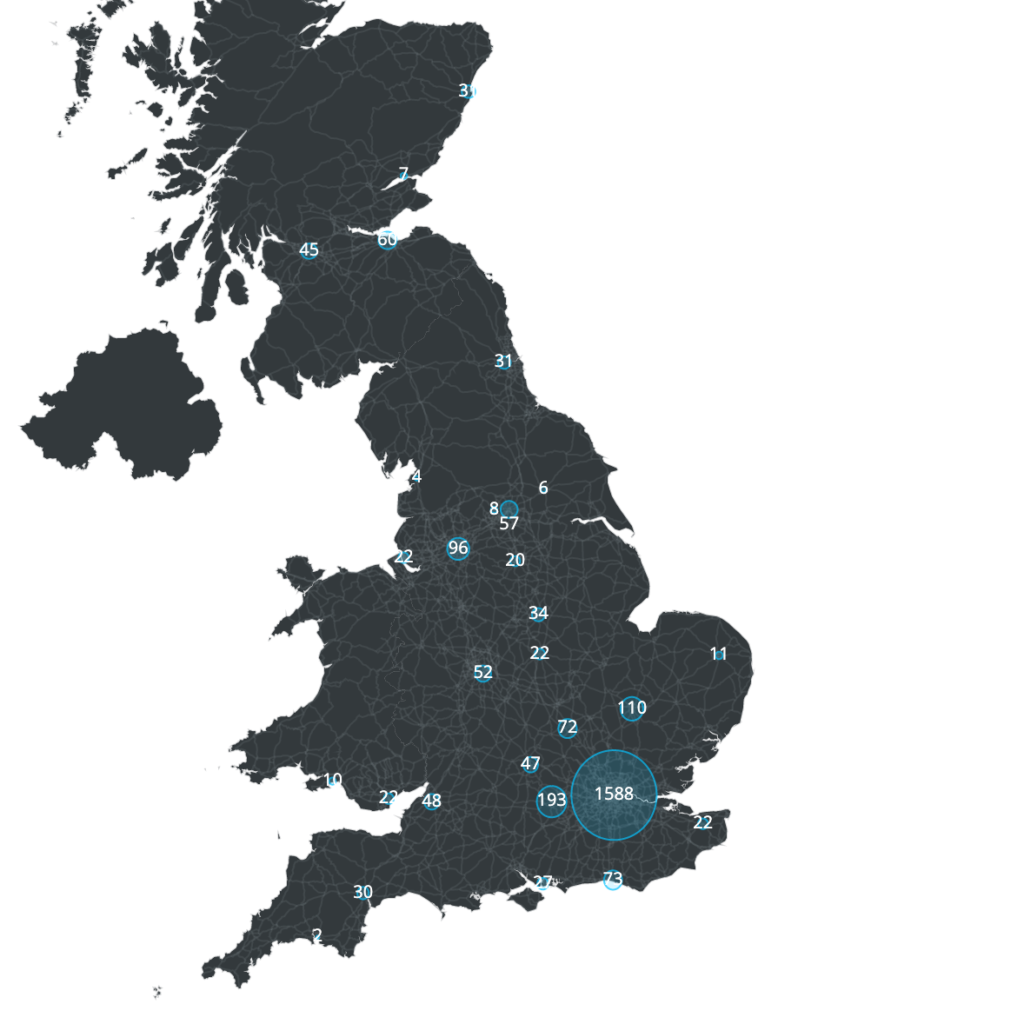 The Data City RTIC identifies the AI sector as having an approximate net worth value of £15.6bn. 45% of companies within it are early-stage startup tech companies employing between 2 and 9 people. The rapid growth in the number of AI companies can be seen in the chart below and in this additional insight from October 2020.
Four ways Real-Time Industrial Classifications can support a National AI Strategy
The AI Council report makes 16 recommendations across four areas to help the government develop a National AI Strategy. A shared taxonomy and classification of the sector is going to be hugely helpful in the effort to coordinate a national response to the opportunity.
Research, development and innovation

Mapping the entire sector, identifying sub-sectors and commonalities between businesses, use cases and regions
Creating an accurate picture of employment, and the geography of employment in the sector
Supporting the 'moonshots' described in the R&D Roadmap by identifying companies working to solve fundamental challenges such as creating 'explainable AI'
Establishing how companies in the AI sector overlap with companies in other emerging areas such advanced materials, Net Zero or energy storage (we are mapping all of these and more at The Data City)

Skills and diversity

Providing a consistent data infrastructure to support researchers, PhDs, Masters and Level 7 apprenticeships
Identifying and benchmarking best practice within the sector where it comes to diversity and inclusion
Creating a real-time database of companies with job opportunities within the sector

Data infrastructure and public trust

Mapping the overlap between the AI sector, big data and data governance companies to enhance bilateral cooperation

National, cross-sector adoption

Identifying the breadth of UK companies using AI to create value within a business to business context
Mapping emerging sub sectors within AI in real time to support the UK's startup vendor community and to support investment for local or regional initiatives
Identifying the cross over between AI and other emerging sectors such as agritech, advanced manufacturing, omics and synthetic biology
There are a host of additional benefits to using a shared, consistent taxonomy and map of the AI companies and we're looking forward to working with our colleagues in both the public and private sectors to support the development of this strategically important area.
Find out more on collaboration opportunities and how we're mapping the emerging economy here.