The Treasury published the Kalifa Review of the UK's FinTech sector last week. Alongside its recommendations to support the industry, the report identifies how an alternative to SIC codes could foster greater connectivity, collaboration and growth. As an emerging sector in the UK economy, FinTech is of particular interest for us at The Data City.
Through machine learning and experts in the loop we've developed a training list of 1492 companies in FinTech. This is a step towards creating the alternative, always-updated, classification system recommended in the Review.
(Note that we have mapped FinTech in detail since publishing this post and are creating the first ever Data City FinTech Census featuring over 3000 FinTech firms in November 2021).
What is the Kalifa Review?
The Kalifa review was commissioned at Budget 2020. The Chancellor asked Ron Kalifa OBE to conduct an independent review to identify priority areas to support the UK FinTech. It formally launched in July 2020 with objectives for supporting the growth and widespread adoption of UK FinTech, and for maintaining the UK's global FinTech reputation.
The review highlights the opportunities for FinTech to create highly skilled jobs across the UK. It also details ways of boosting trade and extending the UK's position as a global leader in financial technology.
We've made the case for better industrial data, overcoming the deficiencies in SIC, for some time now. The Kalifa Review highlights SIC as a barrier to identifying new sectors and creating policy recommendations to support them.
The Review shows that the UK is currently a dominant force in FinTech, but it warns that the sector can't remain complacent as other jurisdictions build momentum and capability. It argues that the UK needs to focus on its highest growth clusters and strengthen national strategic coordination.
"By promoting connectivity between FinTechs and clusters across the UK, we can develop a UK FinTech landscape where the whole is greater than the sum of its parts."
THE KALIFA REVIEW, 2021
An alternative to SIC needed in FinTech
The Review outlines the need for a better system of industrial classification to enable better connectivity, 'liquidity of information' and analysis within the sector.
"During the review there has been extensive data cleansing of a number of current data sources to establish an accurate picture of UK FinTech. For example, research found that over 50% of FinTechs are unable to classify themselves (including the likes of Monzo, Wise, Funding Circle, Revolut, etc.) using the current Standard Industrial Codes (SIC 2007)."
Monzo is classified under SIC Codes 4191 'Banks' and 64999 'Financial intermediation not elsewhere classified'. And Funding Circle is classified under code 64929 'Other credit granting not elsewhere classified' and Revolut Ltd under 62090 – 'Other information technology service activities'.
It continues, "Thus repeatable, accurate analysis on the FinTech industry by the ONS, government and other interested parties is not currently possible and there is a need to establish a platform that enables liquidity of information."
The Review suggests that this lack of connectivity in data is hampering the ability of the industry to grow. It even suggests that improving this could uplift GVA by +60%, between £2.4 and £3.0bn. It would also lead to a +50% increase in FinTech jobs.
The sector has grown significantly over the last 20 years, to approximately 2,500 FinTech Companies today according to Deloitte. Our initial mapping of the sector suggests that the sector may already be larger than that figure.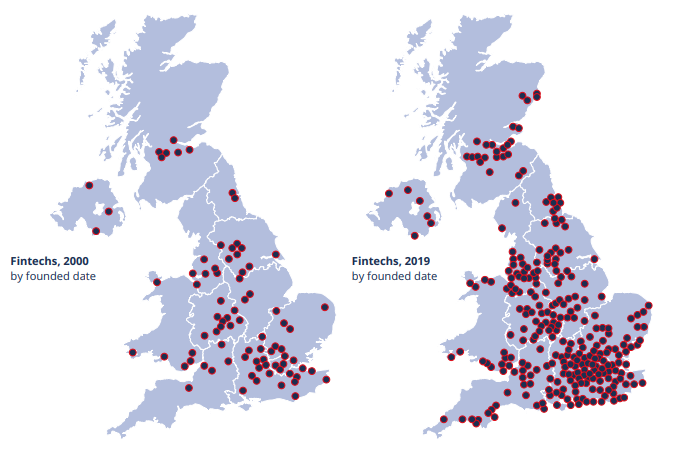 Our insight platform allows us to see the main city clusters, which as you'd expect are concentrated in London and the M4 corridor. However, there are also clusters across Manchester and Leeds, Edinburgh, Glasgow, Oxford, Cambridge and Birmingham. A more detailed view of this data from our training set is available on request.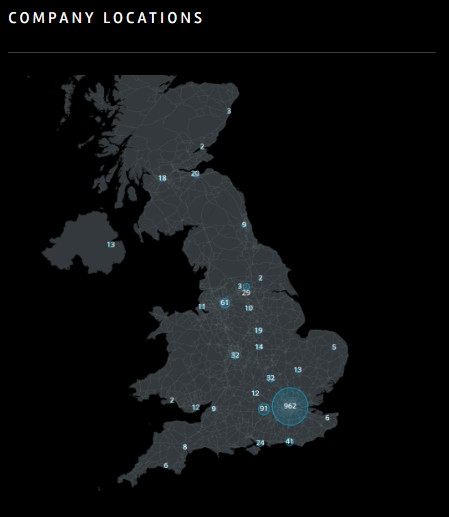 Data as connective infrastructure
We began mapping FinTech and its subsectors in 2020. Our taxonomy includes;
FinTech
Financial Technology
Insurtech
Open banking
Business intelligence
Paytech
Lendingtech
Bankingtech
Lendingtech
WealthTech
Our training set of 1492 companies in the sector, including their regional distribution, size and financial information is ready to be tested and iterated. We believe it represents the alternative to SIC that the Kalifa Review calls for.
More information on our work to improve data infrastructure for FinTech can be found on our FinTech data page.
We're currently reaching out to experts to work with our analysts and machine learning tech to build new classifiers that reflect the sector's dynamism and provide an alternative to SIC.