We've previously shared work looking at sectors that have more businesses outside of London and the Southeast, than in this combined area. This showed the exciting work that is going on across the UK. Here's a reminder: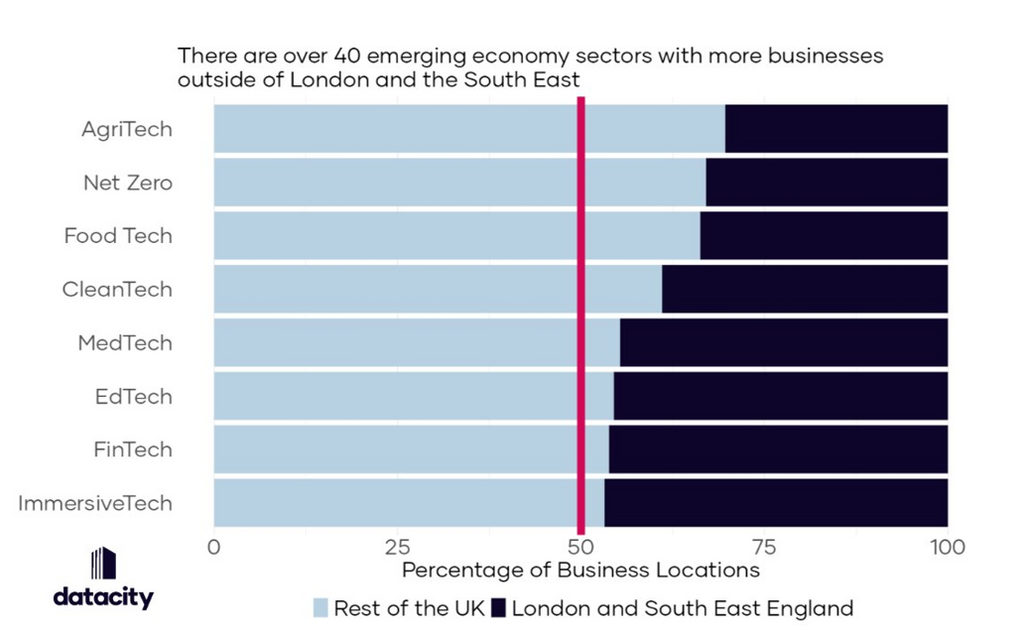 This picture is reinforced when looking at the hotpsots for growth in the UK. With a growth rate of 4.1%, London is actually the UK's 26th fastest growing city.
With so much opportunity spread across the UK, we've used our data platform of the UK's companies to map the fastest growing cities in the country, highlighting the emerging sectors and companies driving innovation in each region using our Real-Time Industrial Classifications (RTICs). Let's take a look.
The UK's top 5 cities for growth
1. Liverpool
Company growth rate: 20%
Highlighted growth sectors: Logistics / Software Development / Business Support Services
Nestled by the waterfront, Liverpool is all about growth. Thanks to Liverpool's recent freeport status and booming port activity, the logistics sector is taking off, and there's more to come with investments like Liverpool2 and expanded warehousing coming into fruition.
Software development is taking off too, with an uptake in job advertisements for this occupation, especially in security engineering and game development.
The work done by these institutions (and the countless ones we don't have time to mention) are enabling breakthroughs in areas such as Synthetic Air Fuels (SAF). Late last year, the RAF successfully tested SAF in one of their larger aircraft. Sheffield's SAF Innovation Center is supporting testing for the first Net Zero transatlantic flight this year.
One of the other areas for growth in the city is in Digital Creative Industries. Architecture, photography, and gaming companies have all been making their mark on the global stage.
3. Bradford
Company growth rate 10.9%
Bradford's growth comes from a broad range of sectors and there's a lot of interesting work going on, from rapidly growing health care practices to nascent airlines. Bradford Council has a clear strategy on how to achieve growth, with focusses on the green economy and digital skills.
Their digital skills program aims to close the gaps that industry is experiencing. We've looked at the data and the 5 hardest digital skills to hire for are shown below.
What's more is the university is due to launch its own satellite later this year and with advanced manufacturing expertise in the region, there is real potential for the Space Economy in Bradford.
Bradford University has announced a focus on Space and AI technologies, with the announcement of the Bradford-Renduchintala Centre for Space AI last year, chaired by Paul Febvre (CTO of Satellite Applications Catapult).
4. Portsmouth
Company growth rate: 10.2%
Highlighted growth sectors: Cyber / Telecommunications
Portsmouth is making waves in the tech world with its strong cyber economy, growing at 45% a year. The city's universities and manufacturing prowess are also fueling the telecommunications sector.
Big players like CCN Communications and Airbus Defence and Space call Portsmouth home, putting the city on the map for satellite manufacturing and more.
CCN Communication's growth is particularly impressive. Check it out below.
5. Manchester
Company growth rate: 8.5%
Highlighted growth sectors: AI / Life sciences
Manchester has a strong reputation for its advanced manufacturing sector. However, it has declined in size over the last couple of years. There's a few things behind this. Firstly, the city has relatively few start-ups and a large proportion of established firms. Start-up and scale-up firms typically drive employment growth, which would increase the growth of the sector. Secondly, some established firms have had difficulties in the last couple of years, in particular, Haynes and McNicholas. These two companies have seen falling headcounts and have contributed to an estimated 30% reduction in headcount between 2017 and 2022.
That said, other sectors are making up for Advanced Manufacturing's slow down. One standout is Artificial Intelligence (AI), which has placed Manchester among the top 5 AI hubs in the UK. This is no surprise considering the city's rich history tied to pioneers like Alan Turing and the invention of the first stored program computer. Additionally, Manchester receives significant support from local authorities and partners who are committed to promoting the use of AI in the city.
And don't forget about life sciences. The city's got big names like the National Institute for Health and Care Research, UK Biobank and the Medicines Discovery Catapult, making it a promising spot for growth. There's a large amount of investment in lab space in Manchester, with Manchester Science Park quickly becoming home to a number of life sciences companies.
For example, Qiagen, an international pharmaceutical company, established a presence in Manchester to further their diagnostics development and genomic research.
---
These five cities are writing their own growth stories, each with a unique focus and a commitment to progress. From Liverpool's logistics surge to Sheffield's energy innovations, Bradford's multidimensional ascent, Portsmouth's tech dominance and Manchester's AI and life sciences journey, these urban centers are setting the stage for exciting times ahead.
Interested in finding out more about the UK's emerging economy or want to see our platform? Simply get in touch or book a demo today. 
---
About our data
Cities were defined using OECD 2012 Functional Urban Areas and companies registered addresses. These are accessible here.
Company employment is estimated where there is sufficient data and there are gaps in declared values. We also make efforts to estimate the level of employees at each site, when a company has multiple sites – there is no requirement to declare this data publically.
Cities were identified by the highest estimated growth rates for the city. Data City's estimated growth rate tracks long term trends in employment growth.
Highlighted growth sectors are sectors that rank highly for growth and that have more than 30 companies in the sector in a particular region.