Our new RTIC Ranking Table is live on the platform today! Including easy-to-access data on which industry has the highest/ lowest turnover, sector growth, investment, and more.
We wanted to provide our users with a way to access key information on the UK economy as quickly as possible for a long time, we've finally released the RTIC Ranking Table.
This handy table of our Real-Time Industrial Classifications (RTICs) provides platform users with the following information (all sortable from highest or lowest):
Company counts
Investment
Turnover
Employees
Growth
… and all of this per region!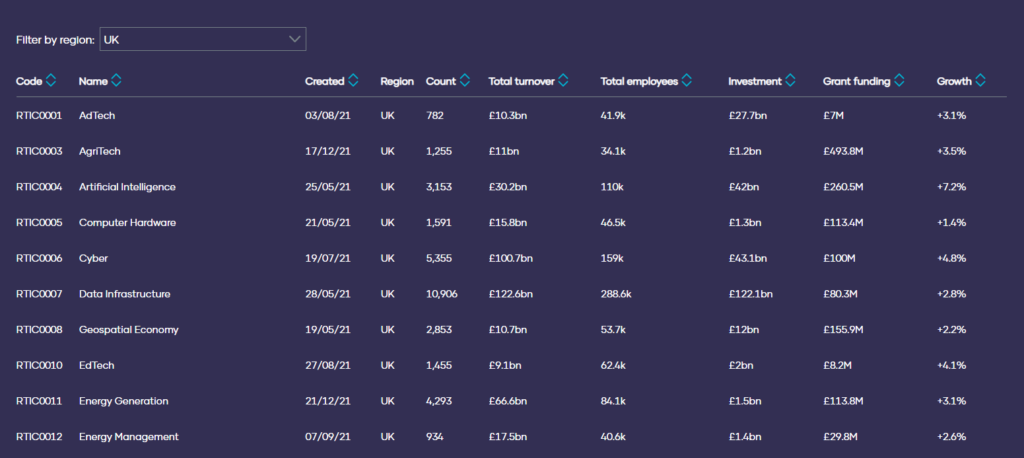 Interested in which emerging economy sector has grown the most in North West England? A few clicks and this info is yours (it's Immersive Technologies with a growth rate of 6.4%, in case you're interested).
This table can be found on Data Explorer → RTICs → Summary within our platform.
Where the RTIC Ranking Table Came From
We want to provide as much value to our users as possible, hence why we place such a focus on data accuracy (we are The Data City after all). But time is also a valuable resource, and so we want to save you time wherever we can.  That's where the idea for the RTIC rankings came from. Now you can spend just seconds searching for industry trends and take the analysis from there.
This feature also provides a much wider view of the UK's emerging economy than what we have done before. Being able to compare over 50 industries for different parts of the country is invaluable and something that hasn't been possible in such a convenient way with our data before.


As you can see above, the data seen within the RTIC ranking table is exactly the same as the Analysis summary for the RTIC with the North West England location filter applied. This works exactly the same with every different location filter, so you can be sure that you are getting the highest quality data from our platform, just quicker than ever before.
If you're already a user of the platform, then you can find the RTICs ranking table by clicking the "Summary" button at the top of the page. If you're not a Data Explorer user already, then contact us to discuss getting access to this amazing new feature, as well as many more.