We love geography almost as much as we do AI and data science. Inspired by the publication of Geoawesomeness' Top 100 Geospatial Companies and Ecosystem Map – 2021, we created a dataset capturing the size and distribution of the UK's geospatial sector.
This short blog explains how we did it using our Data Explorer platform.
Defining the geospatial sector
We wanted to produce a dataset on the geospatial sector and its supply chains. Our geek-level knowledge of the sector means that we know it well, so we quickly identified four principle segments within it.
Companies doing data capture: Companies producing and commercialising geo-located data. This data is often captured by remote sensing technology (aerial and satellite imagery) and topographic surveying
Data Processing and visualisation: Companies providing geo-located data processing and visualisation services
Geographical Information Systems technologies: Companies developing custom or proprietary GIS technology
Navigation Technologies and Services: Companies providing technologies and services based on satellite navigation technologies
We trained our machine learning algorithm to find companies doing these things based on textual analysis of their websites. We currently hold a database of 1.1m companies matched to their websites, meaning we've got good coverage of active businesses in every sector of the UK.
Data Explorer showed us that there are 1,782 companies involved in geospatial in the UK. Together they employ 31,949 people and have a net worth of £34.6 billion.
Exploring the geospatial sector, finding trends and innovators
Now that we had the data, we could break into full exploration mode and get into the detail and pick out the key themes in the data.
One of the most interesting, is the disruptive impact of drones on traditional data capture processes.
Aerial surveillance has traditionally been expensive with imagery only possible to capture via plane, helicopter or satellite. This meant that is was difficult to keep local spatial updated. It goes without saying that most of us don't have access to an aircraft or satellite. The production of geolocated data was highly controlled by large corporations or government bodies as a result.
The widespread availability of drones has changed this. Over the last few years there has been a huge increase in the number of companies offering custom data capture using drones. We found 294 companies using drones for surveying and capturing spatial data. The sector's growth from 2000, when there were only 47 companies offering this service, can be seen in this graph.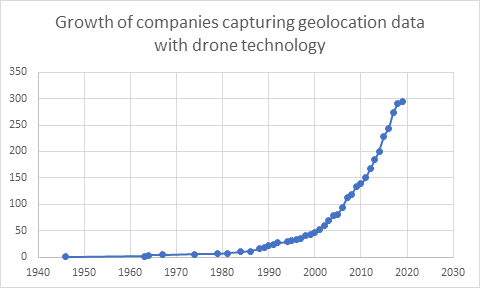 Drones, weddings and minefields
The drone sector grew again during the Coronavirus pandemic in 2020 as businesses needed to diversify. Alex Lester's wedding photography business was one of those hit hard in 2020. Looking to diversify, he trained as a drone surveyor and set up his new company UAV providing aerial inspections, surveying and thermography.
Other companies, like Fardoulis, are using drones for humanitarian work clearing mine fields. Fardoulis is a good example of a company hidden in SIC Code data. Incorporated in 2015, they are classified under SIC Code 72190 – Other research and experimental development on natural sciences and engineering. It's easy to see why the outdated SIC system makes it difficult to find innovative companies or clusters of businesses.
Our geospatial sector dataset has also identified an increase in the number of companies that have extended their GPS tracking products to pets.
Lightbug produced the first solar powered GPS tracker back in 2017. Since then they've expanded their product range by creating devices specifically for children, pets, vehicles and even drones. Like Fardoulis, they are hard to find using SIC. They use three codes, none of which provide them with an appropriate description of their business.
26120 – Manufacture of loaded electronic boards
26400 – Manufacture of consumer electronics
62090 – Other information technology service activities
As well as finding trends and innovators, our platform also makes it easy to analyse sectors and their segments in detail.
Analysing the UK's Geospatial scene
Unsurprisingly, London is the hotspot for geospatial companies. Reading and Brighton take the silver and bronze positions in the list of the top ten cities for geospatial in the UK.
We provide a variety of data visualisations in Data Explorer, but it's also possible to download our data and use it in other applications. The interactive visualisation below, for example, takes our data on companies in each of the four segments and plots them by net worth.
Wrapping up geospatial
As we said at the start, we're massive geography geeks so it's no surprise that we find this sector so interesting. It shows how trends in technology have lead to substantial growth and innovation in the sector, allowing entrepreneurs to diversify their revenue during Coronavirus. It also demonstrates the problems that analysts, researchers and investors experience when they try to find interesting companies in the UK. They're incredibly difficult to find in SIC, and often only appear in other datasets when they've attracted investment.
Our platform, and our team of analysts, are available to help define, explore and analyse any industry. Contact us if you've got a data problem that you'd like us to solve.