The UK's transition to net zero will be one of the major growth stories of the decade, and that's certainly true in 2023. Our target to reach net zero greenhouse gas emissions by 2050 presents huge opportunities to level up in regions across the country and can bring benefits for the economy as a whole in the years to come.
Our partnership with ECIU 
Building our understanding of the scale and scope of this net zero economy, we're proud to announce we've partnered with the Energy and Climate Intelligence Unit (ECIU) and CBI Economics to map the net zero economy in a brand-new report.
Harnessing our Real-Time Industrial Classifications (RTICs) to form one of the most comprehensive databases on net zero in the UK, this in-depth analysis of the clean economy, commissioned by the ECIU, further explores the impacts of net zero in national, regional and local economies.
Local net zero 'hot spots'
The report and our data highlights a sector of almost 20,000 businesses, across 16 key verticals, contributing £71 billion in Gross Value Added (GVA) to the UK economy in a year and supporting over 840,000 net zero jobs across the country. As well as the presenting the opportunities for wider economic growth, this report also highlights the impacts of net zero across regions in the UK and how the growing green / clean economy can support wider objectives such as levelling-up.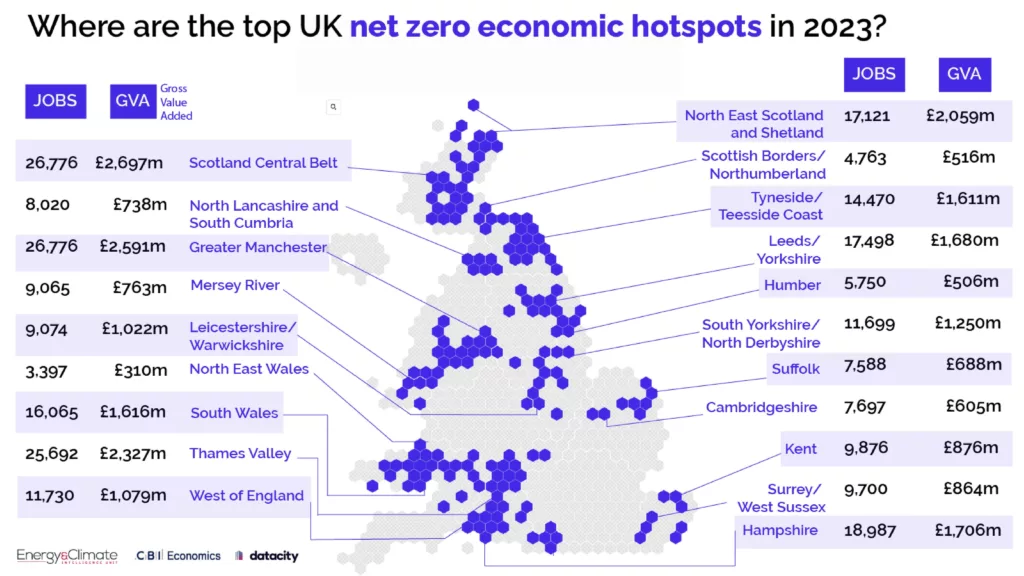 'Mapping the Net Zero Economy' takes a closer look at the local economies in the ecosystem, identifying net zero 'hot spots' across the UK where net zero is playing a larger role. This includes a breakdown of the top 20 net zero regions by GVA, highlighting the key contribution of Scotland, Shetland, Northumberland and Tyneside.
Download the full report
The full report includes key insights for the net zero ecosystem, including:
Overview of UK's net zero economy
Taxonomy and definition of net zero
Impact on the UK economy
Net zero in regional economies
Net zero economy hot spots
Conclusion
Interested in finding out more about the report and the opportunities net zero presents for UK businesses, local authorities or for the wider UK economy? You can download the report for free today on the ECIU website today.
And if you want to find out more about our data and how our AI-led platform of over 5+ million UK businesses helped map the net zero economy, feel free to get in touch and we'll set up a call.