One of KTN's first in-person events since the height of the pandemic, the event provided Fatima and I the opportunity to get away from our laptops and hear how the UK's manufacturing industry is transitioning to achieve Net Zero. KTN and BEIS use our platform and data, so we thought it would be interesting to find out more about how KTN and BEIS work with companies to support their growth while adapting to the challenges of climate change.
We've recently published RTICs for Net Zero and Advanced Manufacturing. My ambition is always about publishing the most complete datasets on strategically important sectors, so it's key to experience first-hand the businesses operating in the space. Tom and I have previously written about our process for defining the emerging economy through our taxonomies but there's only so much we can understand from our desks. These events provide the analyst (in this case, me) much more than classifying businesses using our platform by showcasing how each industry is evolving.
The Industrial Energy Transformation Fund
Jenni McDonnell MBE kicked the event off and quickly introduced us to Lily Tozer (BEIS) who spoke about the importance of the fund and why the fund has been setup. One of the first slides brought a smile to my face as a familiar table that outlined who can apply to the fund was presented:
Eligible Industrial Processes
Standard Industrial Classification (SIC) Codes
Mining and quarrying
05101 through to 05200;
07100 through to 08990; and 09900
Manufacturing
10000 through to 33200
Recovery and recycling of materials
38320
Data centre
63110
Table one: eligibility for funding by SIC Code
We talk about the shortcomings of SIC at The Data City quite often. They provide limited use, especially for determining eligibility for funding. For example, businesses in our Advanced Manufacturing RTIC actually use over 550 different SIC codes to classify themselves at Companies House (see table below). There are likely to be more companies that would benefit from this funding but aren't using one of the SIC Codes in the table above.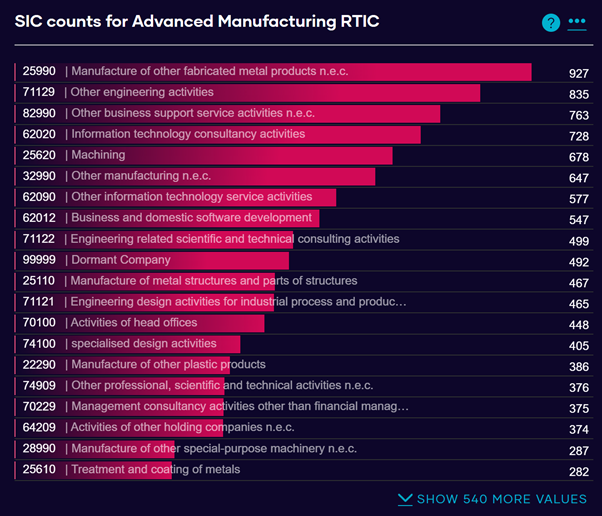 The challenge of transitioning to net zero
Following on from Lily, we heard from speakers representing companies such as Essar, Laing O'Rourke, Tate & Lyle Sugars, CR Plus (On behalf of Fir Steel) and British Glass. We also heard from BEIS to see how they are supporting the transition to Net Zero. These talks were all fascinating and it was eye-opening to see the scale at which some of these companies needed to adapt to reducing their emissions.
There are three interesting points I was able to take away from attending the event:
The amount of innovation which is happening within the industry. We've spent some time working with one of our clients ranking the top 100,000 most innovative companies in the UK. I'm going to look into whether our rankings include some of these manufacturing companies that presented and if not, why not?
The amount of data which isn't used (I'm amazed as a data scientist).
The number of different funds available to support companies (fantastic to see!).
So how did attending the event benefit me working for The Data City?
Taxonomies – I've written about what a taxonomy is previously and how they support our industrial classifications. When I was listening to the speakers, I was listening to the terminology they were using, examples include: Industry 4.0, "recovers energy", geopolymer, "Cryogenic Carbon Capture (A3C)" etc. These keywords can be used for improving our Net Zero supply chain or our Advanced Manufacturing RTIC.
Informal Learning – I've been spending more time thinking about this recently due to a couple of books I've read and some podcasts I've listened to. Informal learning often encourages a knowledge/share culture and allocates time for learning. In this case, the time allocated was visiting an event to hear from the source of industries transforming.
Networking – It was great to just chat to people. We all know the importance of networking but it felt good to be in person again and understanding where The Data City could support.
Our culture is one of fast iteration and working out loud, so you can expect to hear more from me over the next few months as we weave what we learned from attending this event into our data, our platform and our approach to real-time industrial classification. Follow us on Twitter and LinkedIn for updates.