The journey of the crypto industry has been a story of two halves. Rapid, phenomenal growth characterised the first, whilst uncertainty, panic and lots of money disappearing are defining the second. I wanted to see whether our UK company data matched this trend.  
The rise
Late 2021 and early 2022 marked the most monumental rise of cryptocurrency since its inception in 2009. It had seemingly reached its apex, with various digital currencies bursting into the mainstream, and amassing extraordinary value.
The first seven years of crypto's life saw the total market capitalisation grow by £10 billion. The following five years had an unprecedented increase of about 230x, bringing the combined market value of global digital currencies to a staggering peak of £2.3 trillion in November of 2021.
Cryptocurrencies also began to gain more credibility in the public eye, with celebrity endorsements from personalities such as Matt Damon and Larry David, and lucrative sponsorship deals with football teams such as Chelsea, Manchester United and Manchester City (admittedly, Manchester United does also have an official tractor and mattress sponsor, but the point still stands).
Crypto companies on the upswing
From total insignificance only 15 years ago, to being globally recognised as a legitimate and lucrative industry is an outstanding achievement and is a testament to the huge success enjoyed by cryptocurrency.  Using our Cryptocurrency Economy RTIC (Real time Industrial Classification), I was able to track this trend.
Between 2009 and 2021, the cryptocurrency sector grew at an average of 27.5% per year according to our growth filter. This included 1,076 companies, 74 of which exhibited exceptionally high growth (at least 30% yearly). In fact, these high-growth companies grew at an incredible rate of almost 80% annually. In 2021, employment in the cryptocurrency sector stood at 11.2k employees, a 314% increase from 2.7k in 2014.
This growth demonstrates how significant an industry cryptocurrency has the potential to become; growing from nothing in 2009 to an industry with a £8 billion turnover in 2022.


For crypto companies on the whole, 2021 was the culmination of their rapid growth, with total investment and net worth reaching an all-time high, and profits returning to pre-pandemic levels.
The fall
In 2023, cryptocurrencies are experiencing a significant downturn. This is due to external factors such as high inflation, but also internal systemic issues such as poor risk management, and a high level of fraudulent activity within the sector as a whole.
Take, for example, FTX. This was a cryptocurrency holdings company that, at the start of 2022, was valued at $32 billion and their founder—Sam Bankman-Fried—was almost a cult personality due to his unkempt hair and baggy t-shirts; a far-cry from the attire of conventional Wall Street investors. Today, FTX is bankrupt and Bankman-Fried has been charged with criminal fraud. Not the best look.
The most recent statistics put the total market capitalisation of all cryptocurrencies at £911 billion, a decrease of roughly 60% from 2021. This has led to negative public opinion surrounding crypto, with a survey from Pew Research Centre finding that 75% of Americans who know about cryptocurrencies are not confident that they are currently safe or reliable. We couldn't find a similar statistic for the UK, but since crypto is such a global industry, we imagine the number would be similar.
Company deflation
According to our estimates, the combined net worth of Crypto companies will have fallen from £18.7 billion in 2021, to £12.7billion in 2022. Profit has also fallen to well below pre-pandemic levels with current projections estimating cryptocurrencies will make £700 million total profit, decreasing from the £2 billion yearly average from 2017-2021(excluding 2020 due to COVID).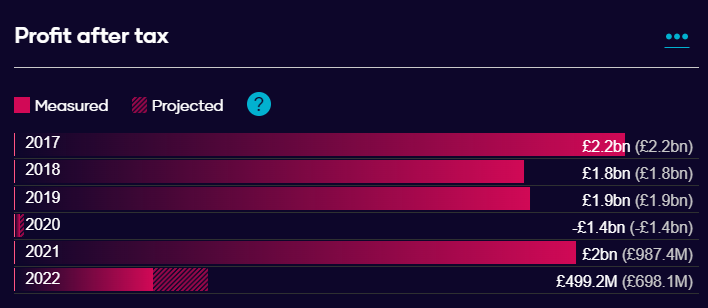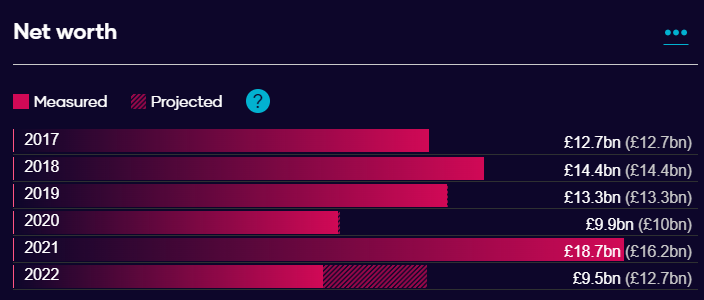 Clearly, the damage to both crypto's financial stature and social reputation led to business confidence taking a hit, with funding plummeting from just over £3 billion in 2021, to around £400 million in 2022. Our projections for 2023 show that investment is likely to remain roughly the same as 2022, suggesting that a return to the huge injections of funding seen in 2021 is unlikely.
Whilst things may look gloomy now for the cryptocurrency sector, it is important to remember that the crypto sector is highly dependent on market values, and whilst experts largely believe that its best days may have already come and gone, there is some hope for recovery as the cryptocurrency markets have demonstrated resilience in the past.
Final thoughts
Cryptocurrency and the companies occupying the space have had an almost unprecedented journey. From the soaring heights of 2021 to shrinking to a more modest level in 2023, crypto has been a wild ride so far. The companies in the UK enjoyed their massive growth in the 2010s and are now finding it hard to sustain said growth as the industry calms down. It isn't down and out just yet though as there is still a very significant amount of money in the sector. The question now is can crypto shed its negative stigma and start to grow once more?
Did you enjoy this piece? Harness the same data platform as our experts and find your own ground-breaking stories using our 14 day free trial—get started with no demo or credit card required.