Platform users now have access to more data than ever before – now including information from Dealroom on start-ups and high growth companies.
Dealroom.co are the leading provider of data on start-ups and high growth companies, used by many investors, entrepreneurs, and government organizations. Combine this with what The Data City provide and corporate finance professionals will have everything they need to know about potential investment opportunities. These professions will have access to investment information plus information on locations, employees, sectors, and more! Dealroom are strong across the EU and are expanding coverage all the time, we're committed to working with Dealroom on a global data asset.
This is why The Data City is so pleased to announce our partnership with Dealroom.co! We believe that with the combination of both The Data City's and Dealroom's funding data, we can provide an unparalleled product.
What data do Dealroom provide?
For companies where the data is available, you will be able to see both total funding and last funding date. This data can be found near the top of a company's details, just under group structure block (see the bottom of the image below):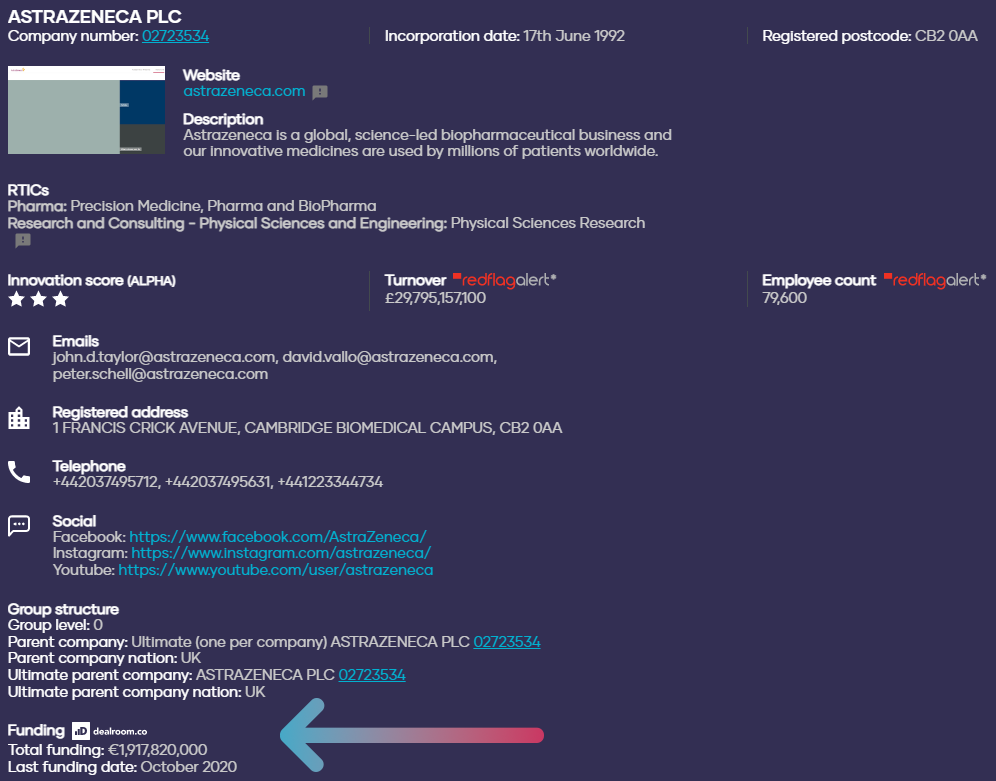 When in analyse, you can see these statistics for any data set, whether that is an RTIC, CIC, or ML list. The examples below show totals for both investment funding and last funding date by year for our AgriTech RTIC: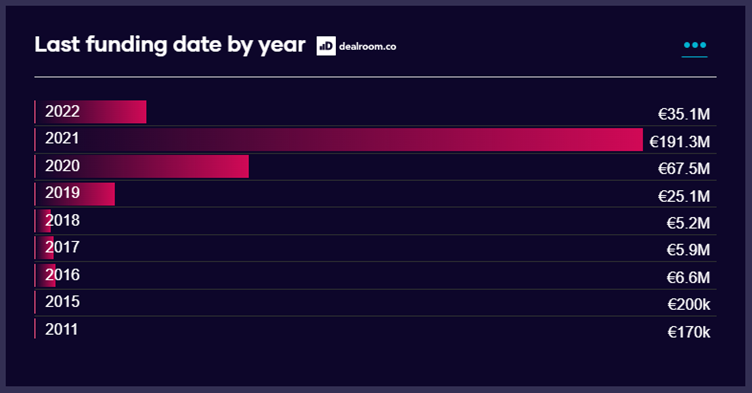 What the data can do for you
Not only do these numbers give a good indication of growth at a company level, when viewed at a sector level they can give a good indication of the growth of entire sectors.
One of the best things about this is that not only does The Data City's product reduce weeks' worth of work into just minutes (as can be seen in our 1 minute list video), now these mere minutes of work will provide even more useful data. No more Googling companies and cross-referencing data from various tools. All the data you need is in one place, accessible in minutes.
Both The Data City and Dealroom are extremely excited to introduce this new data into the platform, with Dealroom saying:
"Dealroom.co and The Data City are looking forward to bringing you the most comprehensive database on acquisition targets."
Have an impact on the data you can get!
Some additional questions we've answered are:
For my industry classification, how many companies have received series A funding?
In the Immersive Tech RTIC, how much funding per year has the RTIC received? Can you break this down into UK regions?
We've fulfilled these requests on a bespoke basis but are looking at integrating these data points into the platform. If there are any other questions, please let us know. Our aim is to provide the data that our customers, or potential customers, want to see; take this chance to get your voice heard!
If you would like to learn more about the data, have a demo of the product, or anything else then please get in touch.